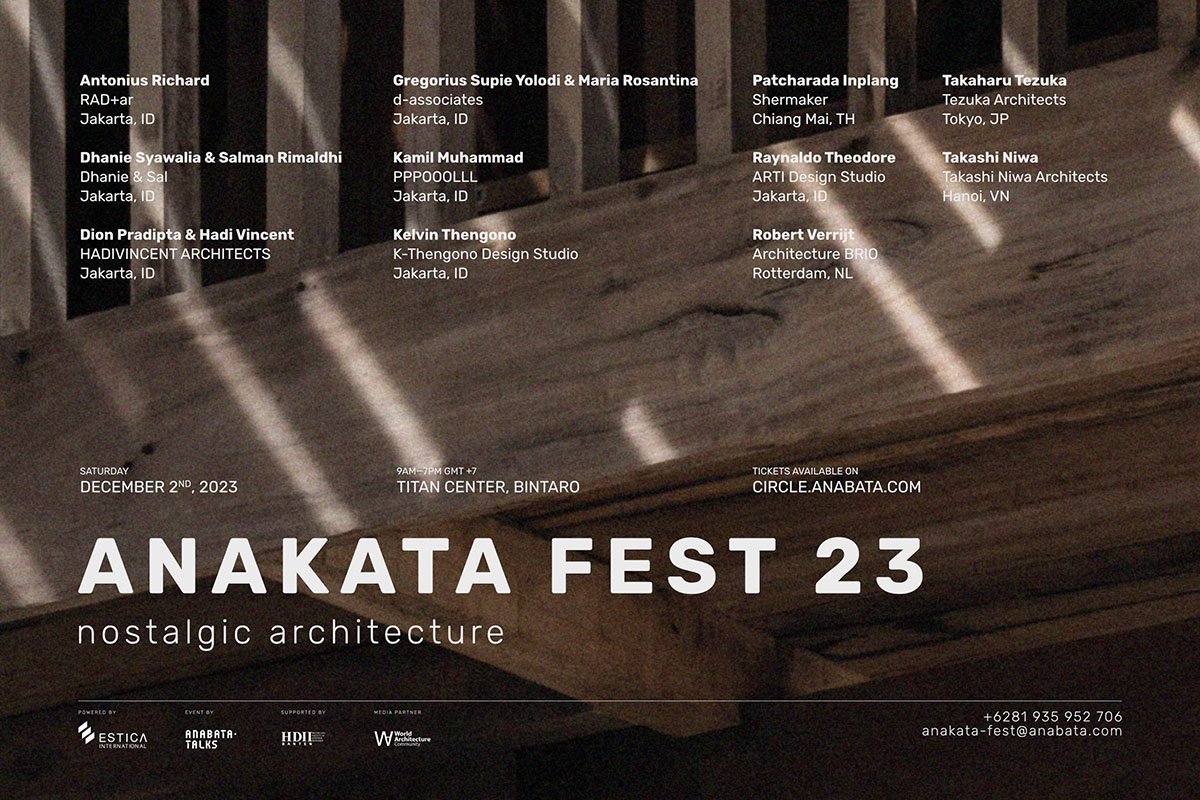 ANAKATA FEST which is presented by anabatatalks under the auspices of anabata, is an annual event that celebrates architecture and design. It features expert speakers who share insights, trends, and innovative ideas in these fields.  
Inspired by how architecture can evoke the nostalgia in people, this year, ANAKATA FEST will bring up the Nostalgic Architecture theme which presents the inspiring stories, journey, and creations related to the nostalgic moments from 11 incredible architects and designers from 5 different countries, including Antonius Richard (RAD+ar), Dhanie Syawalia & Salman Rimaldhi (Dhanie & Sal), Dion Pradipta Soetjiadi (HADIVINCENT Architects), Gregorius Supie Yolodi & Maria Rosantina (d-associates), Kamil Muhammad (PPPOOOLLL), Kelvin Thengono (K-Thengono Design Studio), Patcharada Inplang (Shermaker), Raynaldo Theodore (ARTI Design Studio), Robert Veriitj (Architecture BRIO), Takashi Niwa (Takashi Niwa Architects), Takaharu Tezuka (Tezuka Architects). 
World Architecture Community is media partner of ANAKATA FEST 2023.
The ANAKATA FEST will take place at Titan Center in South Tangerang, Indonesia, on Saturday, December 2, 2023, from 9:00 AM to 7:00 PM (UTC+7). 
Unlike traditional architecture talk shows, ANAKATA FEST 23 offers a unique format with three event areas, each featuring different speakers. Attendees can indulge in captivating discussions that traverse the realms of the past, present, and future while gaining insight into the speakers' creative journeys.
ANAKATA FEST fosters collaboration and inspires creativity, making it a must-attend for architects, designers, educators, and enthusiasts alike.
Founded in 2015, anabata is a medium to connect people in the architecture and design industry, from Indonesia. Optimizing many platforms on digital and non-digital channels, anabata continues to strive to be able to make a big impact on the progress of architects, designers, and manufacturers.
For more information, you can visit anabata. To buy the tickets, please visit this page. 
Top image courtesy of ANAKATA FEST.
> via anabata.com